Le Sport is located on the northwest tip of the island, right on Cariblue's Crescent beach. The hotel's 154 guest rooms rest on 42 acres of lush tropical gardens just a 30 minute drive from Castries. Guests here can be expected to leave feeling invigorated, rejuvenated and rested. The resort provides a choice of land and water sports including golf, tennis, scuba diving, archery, yoga, T'ai Chi and Pilates. The BodyHoliday is one of the most popular resorts in the Caribbean and home to the award winning Tao restaurant.
Your room is your holiday retreat stocked with all the amenities you need to relax. Rooms come in many sizes, but each has a feeling of first-class comfort and privacy. Each room has a garden view and pool access, French doors open to a balcony or terrace that is furnished with wicker armchairs and a dining table. The rooms are of generous size and fabulously furnished, including a four-poster, mahogany king size bed or two queen beds.
Main
Features

Searching

Searching
Cap Estate
Carhire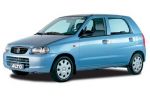 4 images available
Enjoy a smooth drive in our 4X4 manual or automatic jeeps or cars to view some of our famous sites - The Pitons, the Sulphur Springs, the Diamond Botanical Gardens Waterfall and Mineral Baths as well as our breathtaking coastlines and great beaches. All at Your Convenience.
details