Myvatn
Myvatn lies in the northeast of Iceland on the western edge of the volcanic active zone that runs across the country from southwest to northeast. The natural beauty of Myvatn and it's surroundings is unique and has been sculptured by volcanic eruptions through the ages. The lake is one of the largest in Iceland and renowned for wildlife. In addition to two swimming pools there are numerous bathing possibilities. The most interesting one is the lagoon which is similar to the Blue Lagoon although is completely natural. Myvatn is one of the best fishing lakes in Iceland and teh bird life is world famous.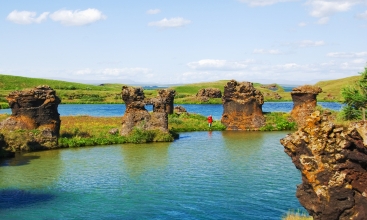 Searching
Myvatn
Accommodation

4 images available
Located on the southern shore of lake Myvatn one of the most beautiful and popular tourist locations in Iceland.
| | | | |
| --- | --- | --- | --- |
| Single | Sleeps 1 | from 113.40 per day | Single room |
| Double | Sleeps 2 | from 140.00 per day | Double room |
| Triple | Sleeps 3 | from 183.40 per day | Triple room |
Hotel

details

4 images available
Sel Hotel Myvatn is a great location for exploring north east Iceland and overlooks the wonderful lake region.
| | | | |
| --- | --- | --- | --- |
| Single | Sleeps 1 | from 87.82 per day | single with en suite |
| Double | Sleeps 2 | from 109.45 per day | Double / twin with en suite |
| Triple | Sleeps 3 | from 140.00 per day | Double + single bed with en suite |
Hotel

details

Searching

Searching
Myvatn
Flights
Other Resorts in
Iceland