Alicante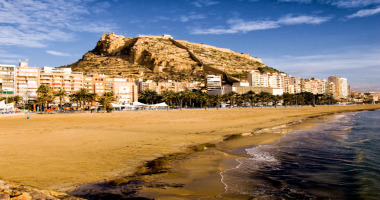 Searching
Alicante
Accommodation

26 images available
If you're looking for somewhere to stay in Alicante, Madame Vacances invites you to stay at the Alicante Spa and Golf resort located on the Bonalba golf course, 10 km from the beach of San Juan. As well as the 18 hole golf course, the resort boasts a relaxation area* (indoor and outdoor swimming pools, sauna, Turkish bath, whirlpool bath, fitness and beauty area) available to those residents staying in our detached villas. The villas, houses and apartments of the resort are completely decorated in the authentic Spanish style. The living room is air conditioned.
| | | | |
| --- | --- | --- | --- |
| Villa 6 pers | Sleeps 6 | from 180.91 per day | 3 bedroom villa |
| Villa 8 pers | Sleeps 8 | from 188.54 per day | 4 bedroom villa |
| Villa 10 pers | Sleeps 10 | from 211.09 per day | 5 bedroom villa |
Apartment

details

4 images available
The gate-way to the Costa Blanca, just a short distance from Benidorm and Alicante, Javea has managed to keep alive and intact its cultural identity and continues to extend the welcome of a seaside resort. Throughout your stay you will appreciate the sporty and festive atmosphere , at the same time as exploring this region which, in more ways than one, offers you its warmth.
| | | | |
| --- | --- | --- | --- |
| Apartment | Sleeps 2 | from 68.18 per day | 2 rooms |
| Apartment | Sleeps 4 | from 83.63 per day | 3 rooms |
| Apartment | Sleeps 6 | from 94.55 per day | 4 rooms |
| Apartment | Sleeps 8 | from 105.46 per day | 4 rooms |
Apartment

details

Searching

Searching