Florence
Florence, the birth place of the Renaissance, is an enchanting city with eminent artistic figures such as Masaccio, Brunelleschi, Alberti, Donatello, Botichelli, Leonardo da Vinci and Michelangelo who are all represented here in an unrivalled concentration of churches, galleries and museums. Many of the sites are situated on the north side of the River Arno, and most of these are within a fifiteen minute stroll of the Duomo, the hub of the whole city. Florence is a magical city full of culture, art and history, take a stroll around this enchanting place and you'll create a memory you won't ever forget.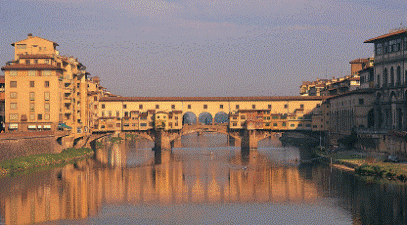 Searching
Florence
Accommodation

7 images available
The magnificent atmosphere of the nearby Boboli Garden, the beauty of the halls of the Uffizi Gallery and Ponte Vecchio with its stunnig sunsets, are only some of the memories that will make your stay unforgettable.
| | | | |
| --- | --- | --- | --- |
| Single | Sleeps 1 | from 120.91 per day | Single room with private facilities |
| Double | Sleeps 2 | from 151.45 per day | Double room with private facilities |
| Triple | Sleeps 3 | from 170.55 per day | Triple room with private facilities |
| Family | Sleeps 4 | from 241.82 per day | Family room with private facilities |
Hotel

details

5 images available
Florence alone embodies the whole of the Italian renaissance, thanks to its rich, architectural heritage and its unique museums. Any trip to Tuscany would be incomplete without a visit to Florence. Florence, both pleasant and fascinating, still preserves to this day, the same architectural aspect as that of the ancient city, which, from the end of the Middle Ages, was the political and cultural leader in Europe. Even if this is one of the Italian towns the most invaded by mass tourism, its artistic heritage makes it a unique place in the world, where the concentration of museums and masterpieces goes beyond all imagination.
| | | | |
| --- | --- | --- | --- |
| Apartment | Sleeps 2 | from 294.55 per day | 2 rooms |
| Apartment | Sleeps 4 | from 331.81 per day | 3 rooms |
| Apartment | Sleeps 6 | from 360.00 per day | 4 rooms |
Apartment

details

Searching

Searching
Other Resorts in
Tuscany & Florence, Italy